Pool Table Hire or Profit Share
Pool tables are supplied on either a fixed weekly rental or a profit share. Pool tables are a great way of boosting your pub or clubs income, we supply league quality tables, these have electronic coin mechanisms so accept all coins, plus they can be set on free play with just a turn of a key. All tables are supplied with accessories an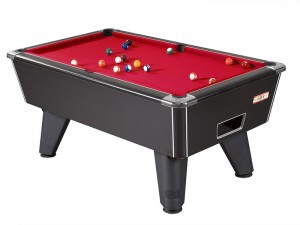 d a pool table trolley if needed. Our pool tables are recovered every 6 months to maximise cash box takings.
We only use the highest quality 6811 Strachan wool cloth and Hainsworth speed cloth on our pool tables.
We supply two sizes of pool table 6x3ft and 7x4ft and you can choose to have your pool table re-clothed in a range of cloth colours, green still being the most popular pool table cloth colour.
5 reasons to choose Crest Amusements to supply your pool table :
1. Electronic coin mechanism which accepts all coins meaning higher cash box takings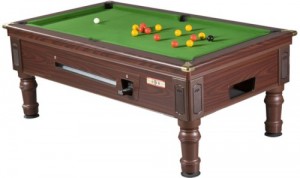 2. Serviced on a regular basis
3. Supplied with cues, chalk, balls, lights and a trolley if needed
4. Supplied on either a contract free rental or a profit share
5. Your choice of pool table cloth