Digital Jukebox Hire or Profit Share
Jukeboxes play an important role in most pubs and clubs, they not only generate money from cash box takings but also help getting more people through the door of your establishment.
Our jukeboxes are digital which means they have a touchscreen interface. They are loaded with 1,000's of tracks and are updated regularly with the latest music and can be profiled to suit your customers musical tastes.
5 reasons to choose Crest Amusements to supply your Jukebox :
1. Updated regularly with the latest music
2. Jukeboxes can be profiled to suit your customers musical tastes
3. Fast and efficien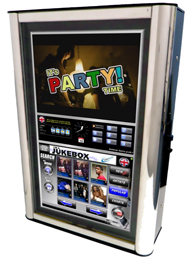 t break down call out service
4. Jukebox can be supplied on a contract free rental or a risk free profit share
5. User friendly interface with over 100,000 tracks